Writing a book is a daunting challenge all its own, though factor in the added tasks of independent publication (getting beta feedback, finding an editor, hiring a cover designer, selecting a distribution channel, deploying a sales strategy, building a web presence, promoting your brand—I could go on forever) and it's easy to see why so many books stall on the launching pad of life.
Nevertheless, I've still elected to go it alone as an indie author, and below are a list of resources that I've found most helpful in my quest for publication.
Downloadable Resources
Beyond Vanity: How Indie Publishing Builds Professional Writers (PDF) This is a free resource I created for use in a series of workshops/seminars I give at conventions.
Organizations to Know
Author Services
Red Adept Editing(editing): RAE offers a full-suite of author services including content editing, line editing, proofreading, and more, as well as the option to submit your work for a conventional publishing contract through the company's publishing arm, Red Adept Publishing.  NOTE: in the interests of integrity, all books not accepted for publication will cease to be eligible for author services.
Streetlight Graphics (ebook/POD cover design and interior formatting): SLG is a full-service suite for all of your production needs, ebook and POD. Beyond that, however, Glendon and his staff are quite simply a pleasure to work with.
Indie Author Must-Reads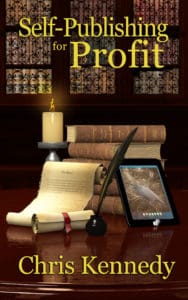 Self-Publishing for Profit: How to Get your Book Out of Your Head and Into the Stores by Chris Kennedy
Self-Publishing for Profit is the first book that gives authors all of the tips required for success. It not only shows how to design business and marketing plans that will help them be successful in the short term, but also how to improve their writing skills for long term success. It does so without requiring large outlays of cash, giving new authors a two-pronged strategy for success that anyone can follow.
Produced by veteran independent author and self-publisher Chris Kennedy, Self-Publishing for Profit details the plan he used to sell almost 40,000 copies of his books in his first year, after starting with nothing but a story.
On Writing by Stephen King (great read on penning a story)
Podcasts to Know
Other Helpful Resources