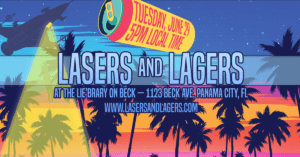 Have you ever wanted to belly up to the bar with your favorite science fiction or fantasy writer and throw back a pint for a good cause? Now's your chance!
Come join me and a team of mega-bestselling scifi authors June 29 at 5 pm CT for the first-ever Lasers and Lagers book event at the Lie'brary on Beck craft beer and wine bar in sunny Panama City, Florida!
Attendees will enjoy a wide array of activities ranging from casual meet and greets with authors to book signings and readings plus the myriad beer and wine options offered nightly by the Lie'brary staff.
Guests will also get to participate in a raffle to win signed books, memorabilia, and other prizes with all proceeds going to benefit the Friends of the Bay County Public Libraries non-profit organization!
Confirmed Authors Who are Attending:
Chris Kennedy (The Four Horsemen Universe, the Theogony series)
Ian J. Malone (Free Bird Rising, the Mako Saga)
Kevin Steverson (The Salvage Title trilogy)
Nick Steverson (The Salvage Title Universe: Coalition series)
Follow Lasers and Lagers on social media using #LasersAndLagers then be sure to "like" our Facebook Event to keep tabs on the latest news and announcements.
You can also follow the Lie'brary on Beck via Facebook and Instagram for info on drink specials, food, and other events happening around the bar.
Happy Friday, y'all! We hope to see you on the beach this summer!!!!