Happy Hump Day, gang!
By now, y'all know that my new book, Colonies Lost, is on the way June 12. You also know that the story focuses on a present-day US Marshal who delves into the mystery surrounding the Lost Colony of Roanoke Island. What you won't see in that story, however, are the actual events at Roanoke in 1587.
Well, ordinary readers of Colonies Lost won't get those events. You, on the other hand, can if you sign up for my newsletter to receive the new short story, Nightfall!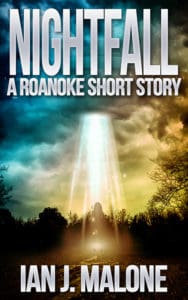 Better yet, it's FREE!
But wait! There's more! (I so just wrote that while speaking aloud in my cheesy announcer voice)
By signing up for the email list, you'll also get Mako: Genesis, the official prequel to my space opera trilogy, The Mako Saga. It's all just my way of saying thanks to those who support my work.
Take care, y'all, and hope you enjoy the new short story!
Cheers… Ian
Description — Nightfall: A Roanoke Short Story
On a cold November night in 1587, 108 colonists stood starving and alone on the shores of Roanoke Island, their eyes fixed on the heavens as something magnificent and terrifying descended from above.
"Surely this is the end," one man whispered in fright. Acting quickly, he jammed his knife into a nearby oak to scrawl out a message.
The man was wrong. It was just the beginning.
Witness the Roanoke colonists' final moments on Earth through the eyes of those who took them in Nightfall, the short story prequel to Colonies Lost.