Chris Kennedy Publishing announced at LibertyCon last weekend that a new anthology set in Chris Woods's "Fallen World" universe is scheduled for release on August 2. The project is titled FROM THE ASHES and will feature short stories from more than a dozen authors, one of whom happens to be yours truly!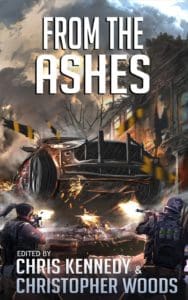 What is the Fallen World?
The Fallen World is a fictional universe set on Earth in the late-twenty-first century roughly 20 years after a handful of corporations took over the planet them promptly blew it to hell in a fiery nuclear war. It's a time of raiders and warlords, an age of imprinted soldiers and physically-modified "geno freaks." It's a place where society exists solely in small pockets throughout the rubble of the old world, and one where justice lives at the tip of a blade because the notion of real law is downright laughable.
Think Mad Max meets the future from Terminator post-Judgement Day.
Thus far, there are two novels set in the Fallen World universe — THIS FALLEN WORLD by Christopher Woods and DON'T CALL ME ISHMAEL by Chris Kennedy — with two more on the way. FROM THE ASHES is meant to blow the doors open for even more.
What does an IJM tale look like in the Fallen World?
I don't want to reveal much because I'd hate to spoil the fun in an email. What I will say is that my short story follows an enigmatic character named Ethan as he embarks on a dangerous trek down the American Gulf Coast toward my hometown of Tallahassee.
Stay tuned here as more details unfold!