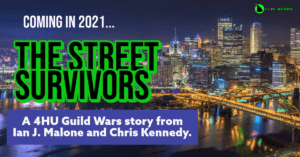 I am beyond thrilled to announce two very important things today.
Seventh Seal Press has formally accepted my story pitch for the next installment in the Swamp Eagle Security mercenary series, which is set in the mega-bestselling Four Horsemen Universe (4HU).
4HU co-creator Chris Kennedy has signed as a collaborator to help pen the novel.
Aptly titled The Street Survivors, this new story will serve as the direct sequel to 2018's Free Bird Rising while continuing the stories which are currently being told in the 4HU Guild Wars series.
The Street Survivors by Ian J. Malone and Chris Kennedy is slated for worldwide release in 2021.
Stay tuned to the IJM newsletter and News Desk as more details unfold.