Hey, y'all.
So, finally got off my duff and watched Netflix's THE DEFENDERS. Eh… not bad. I give it a solid B.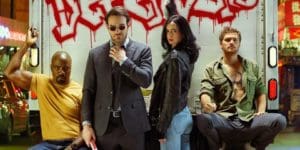 Daredevil is still hands-down the best thing about this universe, followed closely by Luke Cage.
I now find Jessica Jones to be less obnoxious than before, though not nearly enough to warrant a second pass at her standalone series.
Iron Fist, on the other hand (aka The Dollar Tree version of Oliver Queen), annoyed the crap out of me from the moment he hit the screen… pass!
BRING ON THE PUNISHER!!!
Cheers,
IJM