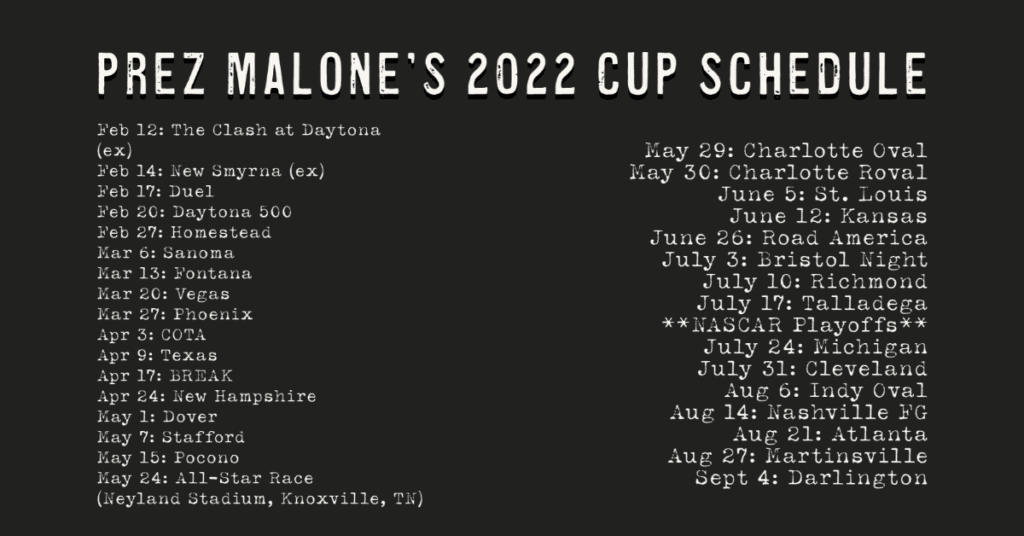 Anyone who follows me on Twitter knows that while I'm most certainly (and proudly) a NASCAR old-schooler, I'm also not without a willingness to accept change so long as said changes make sense for the sport. What follows below are my thoughts on what a NASCAR Cup schedule should look like to grow the sport for future generations while still respecting its history, brand, and spirit to fans old and new.
First things first, if NASCAR is serious about growing the sport then the best possible thing to do IMHO would be to end the Cup season on Labor Day weekend. This achieves two major benefits:
It moves the NASCAR playoffs, which are admittedly riveting, to a time on the sports calendar when mainstream fans and journalists have little else to watch beyond golf and baseball.
It shifts Cup broadcasts out of the line of fire from football where they're routinely bludgeoned in the ratings.
One immediate impact of this move would be a reduction in races, which the sanctioning body would have to recoup with mid-week races if it so desired (not part of the below schedule).
This shift would also create a dearth of NASCAR content from September through January, a hole that I'd fill by converting the Truck Series into a mostly regional property which runs its season in that time on the calendar (think XFL spring football but with any Cup or Xfinity series driver who opts to come race during their offseason).
Feel free to let me know what you guys think in the comments, or on social media.
AUTHROS' NOTE: Dear NASCAR. Throw the handful of old-school fans you have left a bone and move the effing numbers back to center-door where they belong. We've already swallowed playoffs, stage racing, and an influx of new road courses, not to mention the proverbial "turd in the punch bowl" that is your move into political activism. Was leaving this one alone REALLY too much to ask? *smh*
President Malone's 2022 NASCAR Cup Series Schedule
Sunday, February 12 at 2pm ET — The Clash from Daytona (50-lap exhibition race on Super Bowl Sunday featuring the 2021 stage winners)
Tuesday, February 14 — New Smyrna Speedway (exhibition race for charity)
Thursday, February 17 — Duel at Daytona
Sunday, February 20 — Daytona 500
Sunday, February 27 — Homestead
Sunday, March 6 — Sanoma
Sunday, March 13 — Fontana
Sunday, March 20 — Las Vegas
Sunday, March 27 — Phoenix
Sunday, April 3 — COTA 400 (stop calling it a Grand Prix. That's generally an open wheel term, not a stock car term. Pretending otherwise make you look like a wannabe B series, which reflects poorly on everyone involved.)
Sunday, April 9 — Texas
Sunday, April 17 — EASTER BREAK
Sunday, April 24 — New Hampshire
Sunday, May 1 — Dover
Saturday, May 7 — Stafford Speedway
Sunday, May 15 — Pocono
Saturday, May 21 — All-Star night race from Neyland Stadium in Knoxville, TN (I'm not opposed to the football stadium/temp track concept. I just think it's ludicrous to hold such an endeavor in L.A. where you'll never have robust support for the event (see the XFL). By contrast, Knoxville resides squarely in the heart of SEC country, which should be a NASCAR priority. Plus, can you imagine the Volunteer Navy docking their boats outside the track for a massive tailgate on the river? Now THAT'S how you rock an all-star event!)
Sunday, May 29 — Charlotte Oval 300
Monday, May 30 — Charlotte Roval 300
(NOTE: A Memorial Day doubleheader honors the "600" legacy of the weekend while offering fans something fresh. Plus, let's face it. Stage racing has destroyed this race as we know it.)
Sunday, June 5 — St. Louis
Sunday, June 12 — Kansas
Sunday, June 26 — Road America
Sunday, July 3 — Bristol Night Race (Independence Day weekend in the "Last Great Coliseum" would kick more ass than Brett Griffin on a three-day Fireball bender in Myrtle.)
Sunday, July 10 — Richmond
Sunday, July 17 — Talladega (regular season finale under brand new lights = INSANITY)
NASCAR Playoffs
(NOTE: As a reward for being the most consistent driver through 20+ points races, the regular season champion would receive an automatic transfer into the second round.)
Sunday, July 24 — Michigan
Sunday, July 31 — Cleveland 400 from Burke Lakefront Airport (NASCAR seems hellbent on running a street race, which is dumb anyway, but doing so in Chicago is pure lunacy. Cleveland, on the other hand, could be fertile ground for growing the fanbase, plus the wide-open space of running these cars on runways could, in theory, make for an interesting watch.)
Saturday, August 6 — Indianapolis Motor Speedway (The hope here is that by making Indy a cutoff race, it'll make the on-track product more interesting… ON THE OVAL!)
Sunday, August 14 — Nashville Fairgrounds (NASCAR really needs this track.)
Sunday, August 21 — Atlanta
Saturday, August 27 — Martinsville (cutoff night race)
Sunday, September 4 — Darlington (crown your champ at the Southern 500)