Hey, y'all. Hope all is well and you're having a great fall.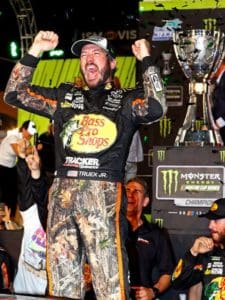 I'm taking a break from writing about books today to rant about something else that I've always been passionate about — NASCAR.
As a lot of you know, I spent a good chunk of my career working in sports. I worked with Florida State athletics, EA Sports, the Indy Racing League (now IndyCar), and even the Charlotte Motor Speedway while in graduate school.
Nowadays I don't write about sports unless it's for fun, which is why from time to time I pen posts like these.
Before I go any further, I do want to say congratulations to Martin Truex and the entire 78 team on winning the 2017 Cup Series championship at Homestead last weekend. I remember Martin when he entered Cup racing via JR Motorsports from what was then the Busch Series. He was a talent then, and he's a talent now evidenced by one of the most dominate seasons in recent NASCAR history. He's also, best I can tell, one helluva good guy with the makings of a great champion.
Way to endure, Martin. Truly, you are the man.
So, why NASCAR and why now?
A lot has been made of NASCAR's dire financial situation in 2017. I'm not here to discuss that, although if you'd like to know more, I'd highly recommend reading this excellent column from Jenna Fryer of the Associated Press. I'm here to talk about solutions.
In short, NASCAR today reminds me in many ways of the National Hockey League following the 2004 lockout, which saw the league forfeit an entire season. Radical change was the only way the NHL would ever recover, and radical change it embraced. It moved forward with three things in mind:
How do we make our product as exciting as possible for fans?
How do we maximize our league's value for owners and potential sponsors?
Who can we partner with to grow our renewed brand?
Fast-forward a few years, and the NHL is quite healthy in 2017. Still, it all started with the league's willingness to retract, cut costs, adapt, then move forward with a strong foundation.
This is the path NASCAR should embrace today.
What would Commissioner Malone do?
The following are six far-fetched (as in, they'll never happen) ideas I'd pitch were I tasked with fixing NASCAR.
Step 1: Slash the schedule and realign
There is absolutely no reason for a sport — any sport — to run a 10-month season. Thirty-six races are entirely too many, and that's not even including exhibition events like the All Star race and pole winner shootout.
I'd cut ten weeks from the schedule. That's nine points races and the All-Star race (no sport in America has a thriving all-star event, so why bother?). This, in turn:
Puts a premium on remaining races
Makes significant cuts to travel costs for teams
Ends the season during the summer with minimal competition from other sports for TV viewership
Once the final list of tracks has been established, I'd design a schedule with as much emphasis on geography as possible to prevent teams from crisscrossing the country for dates.
My ideal season would consist of 27 races (20 regular season and 7 postseason). It would begin in February with the Daytona 500 then end on Labor Day in NASCAR's backyard — Charlotte, North Carolina.
Bonus Thought: The Memorial Day date would go to the Southern 500 at Darlington Raceway.
Step 2: Rebrand the "playoffs" as "the tournament," reduce participants
Dear NASCAR. Stop calling your postseason "the playoffs." You're not football, and honestly you look ridiculous pretending otherwise. Be who you are.
I get that NASCAR wanted to put an emphasis on wins by giving automatic postseason berths to race victors throughout the regular season. It makes sense. The problem is you inevitably end up with one or two drivers who fluke out a win then eek into the title hunt with no real right to be there.
That's not competition; that's a gimmick, and it cheapens the crap out of your title.
The time has come to reward consistency again. I'd do this by crowning a regular-season points champion after race 20, then giving that driver the top seed in a seven-week tournament (ala the NCAA Basketball Tourney) using much the same format as exists today (twelve drivers trimmed to eight after three races then four after six, creating a four-driver shootout in the final event).
This rewards the old-school fans who value consistency while giving NASCAR's television partners something exciting to sell with the postseason.
As for how these 12 drivers would be selected: I'd do so on points, while allotting major point bonuses to stage and race winners throughout the regular season (yes, I'd keep stage racing).
Step 3: Cut the cost of racing… A LOT
Some reports claim it takes $25-30 million per year to field a competitive Cup Series team. That's freaking absurd! NASCAR should find ways to slash that in half, minimum. This would achieve two major goals:
Creates enormous value for sponsors (NASCAR Sales Pitch: "Hey, Outback. Would you rather spend $10 million annually for eight weeks of scoreboard sponsorship at Dolphins Stadium, or be featured front-and-center on the hood/fire-suit of our champion for seven straight months, including the postseason? Oh, and he'll eat a steak in Victory Lane!")
Creates parody within the sport since more race teams can afford to compete at high levels (good equipment, equal testing time, etc.)
As for how best to do that, I wouldn't begin to speculate, although the schedule changes shown above are a great way to start.
This is one of those areas where NASCAR leadership would need to sit down with their stakeholders (owners, tracks, manufactures, racing engineers, television partners, safety crews, etc.) and heed their expertise in formulating a plan.
Step 4: Partner with blue collar brands
NASCAR's core fanbase has always been blue collar, always. They've lost a lot of that identity, and frankly, it's time to get it back. This begins by reinjecting value into the sport via the means above then realigning it with companies/brands who cater to that same working-class audience.
So, who are these people?
They're most Americans, which is to say they live on a budget. They drink Miller High Life beer because it's $6.99 a twelve-pack. They grocery shop at Walmart. They wear clothes from JC Penny, and occasionally they treat themselves to a nice dinner out at the Olive Garden because they had a Groupon.
Does this mean blue-collar folks don't spend money? Not at all. They're just a lot more intentional about how they do it.
Examples of companies that might resonate with NASCAR fans:
Superstores like Walmart and Target
Wrangler, Lee Jeans
TV streaming services like Hulu, Netflix, and Sling TV
Redbox movie-rental service
Domestic beer companies
Discount wireless services like Straight Talk, Boost Mobile, and Cricket
Bargain-hunter websites like Overstock and Priceline
Fast food chains
Bulk/wholesale chains like Sam's Club, BJ's, and Costco
Bargain clothes stores like Payless Shoes, Ross, and TJ Max
Popular grocery store brands for cereals, coffee, or frozen pizza
It would also behoove NASCAR to invest in the American family. This means offering father-son discounts on race tickets, or partnering with charities that support impoverished homes. This advances goodwill toward the public, and helps build NASCAR's next generation of fans who, in a time before computerized engines and iPads, learned about cars in the family garage with their parents and a toolbox.
This segues nicely into…
Step 5: Cut costs for fans
NASCAR's equal footing with the big-league sports lasted a hot minute then ended years ago, though you'd never know that from the cost of a race weekend. Between tickets, travel expenses, hotels/camping, concessions, and race swag, fans can expect to shell out primo bucks to attend an event.
Time for that to change, too.
NASCAR should take the minor-league sports approach to event costs. That means cheaper tickets, reduced costs for concessions (i.e. Dollar Dog Night), discount bins on old swag, and *GASP!* free parking at the track.
No fan should ever pay $120 for a race ticket again, period. $120 for a full weekend, maybe. But not just a Cup race.
Other things NASCAR can do to create value for fans:
Strengthen partnerships with other series like ARCA and IndyCar to provide additional on-track action for race weekends
Spotlight local racers with "big track" heat race events (many large tracks feature built-in short tracks that could facilitate this)
Continue adding concerts and non-racing attractions to bring more fans to race weekends
Step 6: Bring on the NASCAR Network
NASCAR needs to get with the times and launch its own digital network (ala the WWE Network). This would provide them a platform through which to connect with a whole new generation of cord-cutting fans while simultaneously creating a one-stop-shop for original content, classic race footage, and expanded coverage of NASCAR's national touring series.
Other features of the NASCAR Network:
Make the Truck Series the network's crown jewel property and run it offseason from Cup and Xfinity (ideally Truck Series teams would operate for pennies on the dollar compared to Cup)
Coordinate with grassroots tracks to live-stream weekly events like the K&N Pro Series, though blacking out broadcasts in local markets to maintain fan attendance at venues (this would also offer tons of value to smalltime sponsors of hometown race teams)
Create NASCAR-themed entertainment such as reality shows, lifestyle pieces, and live-streamed video podcasts (i.e. The Glass Case of Emotion Podcast) to create a more rounded viewing experience
In closing, some might say I'm thinking too small with this model — that the goal should be to challenge the NFL, not run from it. Maybe that's true. However, NASCAR tried that, and it seems to me that all it gained in the long-run was a boatload of empty stands, dwindling TV ratings, and a legion of fleeing of sponsors.
Put simply: It's better to be a healthy niche sport in the black then an overextended has-been that's hemorrhaging fans with no sustainable future. Alas, that's just one humble sci-fi writer's opinion.
Got ideas of your own for how NASCAR should change? Feel free to weigh in via the comments below.
Cheers, gang. Take care, travel safe this week if you're hitting the road for the holiday, and Happy Thanksgiving!!!
Ian