HUGE news broke today in the world of North American Motorsports.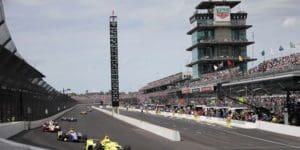 In response to COVID-19, the Indy 500 is being moved to Aug. 23, while the Indianapolis Grand Prix (typically run in the first week of May) is moving to the July 4th weekend where it will run as part of a doubleheader with NASCAR (click here for coverage from the India polis Star).
IJM on the 500
The Indianapolis Motor Speedway staff had no choice but to postpone the Indy 500. It was only a matter of time. Even if we, as a society, are somehow on the downhill slide of fighting this virus by Memorial Day — and that's a big if — there's no way they'd be able to pull together an event of this scale on that much of a truncated timetable. Logistically speaking, it's just not possible.
Moving the 500 to late-summer was the only way to preserve the integrity of what this event is while caring for fan safety.
Having said all that, every sport has its nasty little community of trolls who dump on any sort of change in the name of dying on Tradition's Hill. IndyCar is no different.
Don't listen to those fans. They're idiots.
IJM on the IndyCar/NASCAR doubleheader
This is a ginormous story for A LOT of people… I'm just not one of them. it's not that I dislike IndyCar. I really don't. Heck, I used to be one of their biggest fans back in the early 2000s. Somewhere along the way, though, I simply fell out of love with that series, and it never came back.
These days, my time cup runneth over with everything from family obligations to day job duties and church stuff, plus writing, of course. That only leaves me so much time for sports. Thus,  if I'm to choose but one racing series to follow, it's gonna be my bread and butter — NASCAR.
As for the doubleheader, I honestly don't care who NASCAR partners with for its race weekends, July Fourth or otherwise. So long as the guys I root for each week are on the track at some point — i.e. Kevin Harvick, Bubba Wallace, Brad Keselowski, etc. — then everything else is gravy in the Malone house.
The caveat…
Much like Alabama and Auburn fans or in-laws at a family reunion, NASCAR and open wheel fans haven't always mixed well in a crowd (open wheel = wine and cheese, NASCAR = beer and pizza). Some think that's changed over time, and maybe it has. Nevertheless, I'll be interested to see what the fan reaction is when those two groups collide in the stands at Indy come Independence Day weekend.
Again, all of this is assuming that we're back to racing by then, which I, for one, sincerely hope we are.
Think I'm going wrong in my analysis of this story? Track me down on Facebook or Twitter (@ianjmalone) and throw me your beef. Trust me. I can handle it. 😉
Stay safe, y'all.
Ian
(Photo courtesy of the Indianapolis Star)