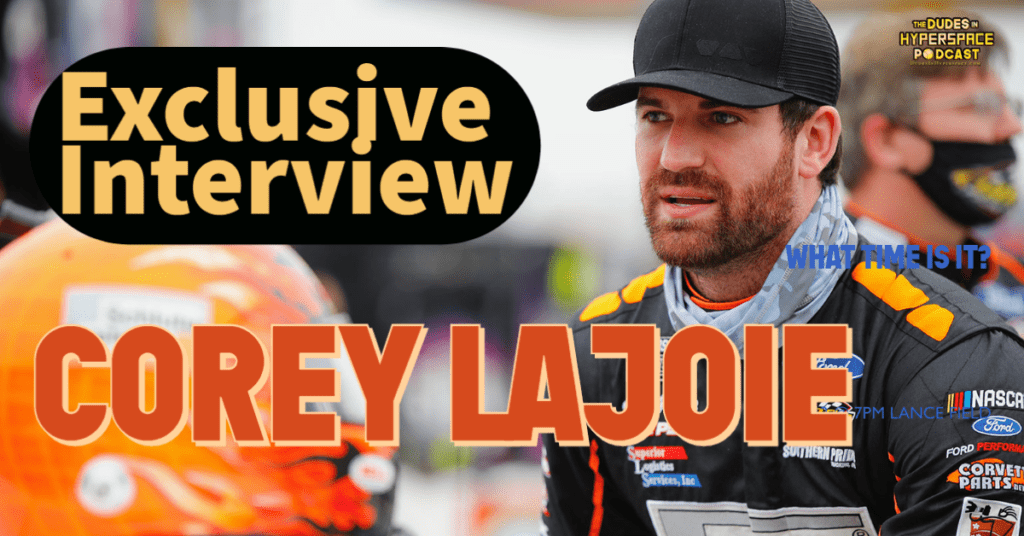 Hey gang. Happy Friday!!! I know this isn't writing related, but you know I'm a racing nut so naturally I had to share. 😉
NASCAR driver Corey Lajoie stopped by The Dudes in Hyperspace Podcast this week to discuss his career in racing and the trials of being a small-budget team competing against stock car titans like Rick Hendrick, Richard Childress, and Joe Gibbs. Corey also weighs in on Kevin Harvick's playoff collapse at Martinsville, his preferences for beer, burgers, and music at a grill-out, and casts his vote won who'd win a fight between Batman and Iron Man in The Two-Minute Drill.
We close the interview with a discussion of Corey's favorite charity, Samaritan's Feet, and the physical toll of driving a 500-mile race in 140-degree-heat on a driver.
Other Topics Discussed on this Episode
The Mandalorian premiere and Season 2 outlook
Florida/Georgia and Clemson/Notre Dame CFB predictions
Is Tampa the favorite in the NFC?
Favorite Sean Connery movies
Best Cold -Weather Beers during Fall
Should NASCAR's playoff system be tweaked… again?
Where to find the show:
To learn more about Corey and his partners, visit https://coreylajoieracing.com/
To learn more about Samaritan's Feet and their mission to provide shoes to kids and families around the world, visit https://www.samaritansfeet.org/
Have a great weekend, y'all!!!
Ian
PS – If you're wondering which driver is getting my support in Sunday's NASCAR title fight now that Harvick is out, stay tuned to social media.