I'm proud to announce that RED SKY DAWNING (Book 2 of THE MAKO SAGA) is now available for purchase on Amazon! I hope you enjoy it, and humbly ask that you please leave a review if you do!!!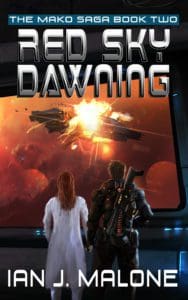 Huge thanks to Chris Kennedy and the staff from Theogony Books for helping me bring this series to a whole new realm of readers and push it forward into the future with a brand-new installment (DETRON CITY VICE) coming later this summer.
Stay tuned to the IJM News Desk as more details unfold! Also, don't forget to sign up for the IJM mailing list and get the MAKO prequel, MAKO: GENESIS!