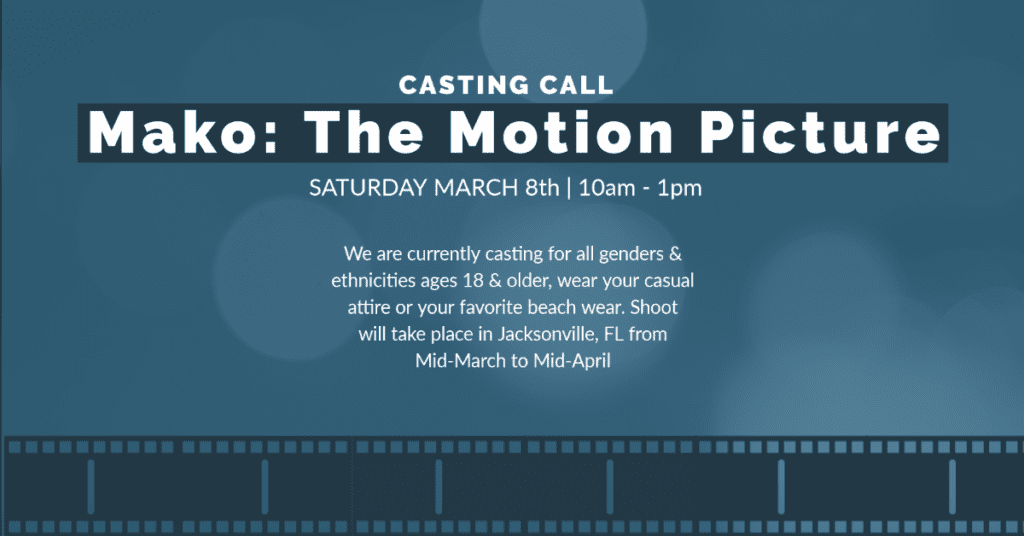 Hey folks. In the spirit of The Mako Saga's release through Theogony Books, and given that we're now less than a month from the Detron City vice launch on Sept. 18, I thought it might be fun to dig back into the IJM News Desk archives and dust off an old favorite for updating.
Welcome to Mako: The Motion Picture 2.0!
Lots of people have asked me over the years who I'd task to shepherd a Mako film onto the screen, and the actors I'd love to see as part of that project. Well, I've given it some thought and here goes.
The following is my dream list for a Mako cast and crew. Let the games begin! 😊
AUTHOR'S NOTE: If you want to know what a Mako film would sound like, be sure to check out the Mako: The Soundtrack playlist on Spotify (free to listen after you download the app).
Director: Jon Favreau
So, has anyone reading this post NOT seen Iron Man or The Mandalorian?
If there were ever a director to nail a Mako movie, it's Favreau. He just gets it. Beyond the fact that everyone's favorite Swinger makes an awesome action piece, he's also extremely adept at showcasing the unique charms and nuances of an ensemble cast. That's a necessity in a Mako film.
Screenplay Writer: Dave Filoni
Those who listen to The Dudes in Hyperspace Podcast know how much respect I have for Dave Filoni. Put simply, the man is almost singlehandedly responsible for everything that is great about Star Wars in the post-prequel era. Star Wars: The Clone Wars? That's a Filoni creation. Same with Star Wars: Rebels and several of the marquis episodes from The Mandalorian.
The bottom line for me is this: Filoni knows how to tell groundbreaking stories in the sci-fi/space opera genre with genuine weight and a real emphasis on characters relationships. Couple this with his connection to Favreau from their time together on The Mandalorian, and he'd make a phenomenal scribe for a Mako film.
CAST
(Actor's real ages as of 2020 were not a factor in this post.)
Lee Summerston: Jensen Ackles (Supernatural) — I'll admit it. I'm a total mark for Dean Winchester. Having conceded that, Ackles is the perfect choice for Lee. He looks the part, he knows his way around a sidearm in an action sequence, and he's a Texan, which gives him the requisite "country boy swagger" one needs to stick the role. He also plays "conflicted" better than many give him credit — an important trait given the amount of time Lee spends in his own head.
Danny Tucker: Justin Hartley (This is Us) —I know Hartley from way back in the early-2000s for his work as the original Oliver Queen/Green Arrow on Smallville, and it's that role that lands him the part of Danny Tucker in a Mako film. For starters, he's got the look (blond, tan, lean build, good smile), though he also plays "strung out on the ragged edge" better than most. Couple that with his skills as a martial artist in an action sequence and Hartley's my guy for Danny.
Evelyn "Mac" McKinsey: Elizabeth Banks (The Hunger Games) — In my initial post, I casted Rosario Dawson for the role of Mac, mostly for her work on Clerks 2. For the record, I still think she'd rock the part. Now, however, many years and many new Makoverse characters later, I need our favorite Night Nurse for a different role (more on that later).
This takes me back to the drawing board to the very actress who I modeled this character after to begin with — Elizabeth Banks, specifically the character she played in the Vince Papale biopic, Invincible.
Hint: Banks's character in Invincible was a smartass, sports-loving bartender from New York with a take-no-prisoner's attitude toward her customers and a love for running with the boys. Sound familiar?
Hamish Lunley: (Unknown Actor) — Honestly, I've racked my brain for years on this one, but to no avail. The truth is, Mako: The Motion Picture would require an actor every bit as unique as the Hamish character himself, and there's just no one I know of in Hollywood right now who could fit that bill. So, I say we cast an unknown (from the theater ranks, perhaps?) and roll on.
Link Baxter: Aaron Paul (Breaking Bad) — I challenge anybody to name one actor in the movie business, past or present, who plays "hot-headed, punk-ass good guy" better than Jesse Pinkman. Seriously, I'll wait.
*taps toe while listening to the Jeopardy theme*
No one else would even read for this part if I could get Aaron Paul, period.
Dr. Madisyn Reynolds: Rachel McAdams (True Detective, Wedding Crashers) — McAdams has shown a lot of depth in her career, and as any Makoverse reader will attest, that's key for playing Madisyn, a character who evolves quite a bit from book to book.
BONUS: McAdams looks great as a redhead.
Dr. Katie Summerston: Katee Sackhoff (Battlestar Galactica) — Any chance to put Starbuck back in space is fine by me. However, my love of Ron Moore's BSG reboot notwithstanding, Sackhoff would make an excellent Katie. She's sassy and quick-witted, but she's also a very cerebral actress who conveys a lot of confidence on-screen.
Katie is funny and charming, sure, but she's also more than capable of taking command in a crisis when needed. Sackhoff does all of that and then some.
Chief Engineer Kris Wyatt: Connor Trinneer (Star Trek: Enterprise) — Mild-mannered gentleman with humble origins and the engineering IQ of a savant… Trip Tucker, maybe?
Trinneer would nail Kris Wyatt. Furthermore, it'd be nice to see him in more than a bit role outside of Enterprise.
ASC Fleet Admiral Markus Katahl: Dennis Haysbert (Major League) — Long before Haysbert was the spokesperson for All State, he was (and still is) a decorated actor. His portrayal of Jonas Blane in CBS's The Unit was out-of-this-world good. Combine that with his physical stature and presence on-screen, and Haysbert would make a phenomenal Katahl.
Alystierian Commandant Alec Masterson: Ian McShane (Deadwood) — McShane is a world-class actor, no matter the medium. It was his portrayal of Al Swearengen, the sleazebag bar owner with the silver tongue in HBO's Deadwood, however, that earns him the role of Mako's top villain. Alec Masterson must ooze evil through every pore of his character, from the manner in which he carries himself physically to the way in which he annunciates his speech.
Simply put, Masterson should crawl up your skin like a disease. McShane would deliver that in spades.
Alystierian Chancellor Lucius Zier: Anthony Hopkins (Silence of the Lambs, Thor) — Do I seriously need to explain this one? He's Anthony freaking Hopkins, y'all. Nobody does "noble patriarch" better.
Sgt. Major Keith Noll: David Ramsey (Arrow) — 'John Diggle' would kill as the hard-nosed, battle-hardened drill instructor for the Renegades.
Dr. Jon Reiser: Michael Shanks (Stargate: SG1) — In addition to the obvious fact that both characters are brilliant scientists who wear glasses, Jon Reiser and Daniel Jackson (Shanks's SG1 character) have a lot in common, from their academic demeanor to their ability to drop a line on a dime.
Sgt. Nathan Briggs: Benjamin Bratt (Law & Order, Doctor Strange) — Bratt is a rangy actor who's been in this business for a long time. Most know him as Detective Rey Curtis from Law & Order. However, it's his role as ex-junkie-turned rehab superhero William Banks from A&E's The Cleaner that lands him the Briggs role. That show ended long before its time.
Other notable cast members:
Les Reegan: A young Lou Diamond Phillips (Henry Standing Bear from Netflix's Longmire)
Obadiah "Doc" Khard: Jeremy Irons (Alfred Pennyworth from Justice League)
Wade Shotzel: Michael Cudlitz (Abraham from The Walking Dead)
Remy Tanaka: Osric Chau (Kevin Tran from Supernatural)
Xayna Lorne: Rosario Dawson (Ahsoka Tano from The Mandalorian)
Auran President Rick Wylon: Patrick Dempsey (Derek Shepherd from Grey's Anatomy)
ASC Capt. Vince Ryan: Joe Flanigan (Col. John Shepherd from Stargate Atlantis)
Shannon "Layla" Baxter: Michelle Rodriguez (Letty from Fast and Furious)
Kendu-Tephala Rikanun: Jason Momoa (Aquaman)
Spiggy (voice): Sam Witwer (Darth Maul from Star Wars: The Clone Wars)
That's gonna do it for now, gang. Take care, stay safe, and drop me a line on social media if you think somebody else deserves a shot at one of these roles.
Cheers,
IJM